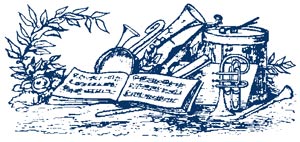 Hungerford and District Community Arts Festival 2013
Our Festival is now finished for 2013 and we would like to take this opportunity to thank all the performers, helpers, sponsors and attendees. Planning for next year will start almost immediately and we would welcome your feedback on this year's programme and any thoughts for next year. You can send comments to .
Beryl Fowler, Chairman
---
---
The 2013 Festival has now concluded.
If you attended any of the events we hope you enjoyed yourselves and we look forward to welcoming you again next year.
---
---
---
21st Anniversary

2012

The Mayor, Martin Crane OBE, joins the HADCAF organisers to celebrate the 21st anniversary of the Hungerford & District Arts Festival.
---
Contact the festival organisers at or telephone 01488 684038.
---
BACKGROUND TO THE FESTIVAL
Hungerford & District Community Arts Festival (popularly known as HADCAF) takes place annually in July and aims to encourage, promote and celebrate the talent, expertise and skills that abound within our community. In addition to offering a platform to local individuals, societies and organisations, the Festival brings to the community performances of music and theatre that would not otherwise be seen locally.
The Festival seeks to include something for all ages, tastes and interests, and the programme encompasses a wide range of arts- and leisure-related events and attractions: the performing arts, visual arts, music of all kinds, exhibitions, talks, craft and dance workshops, local history, antiques, horticulture, conservation and wildlife, guided walks, plus gardens and artists' studios to visit.
---
ACKNOWLEDGEMENTS
Thanks to the staff of Newbury Building Society for box office facilities, to the Hungerford Club for hospitality, Leverton Framers for exhibition space, the Camera Club and Chilton Foliat Village Hall for display boards, and to all who have contributed time, effort and financial support, including Hungerford Town Council, The Trustees of The Town & Manor of Hungerford, Greenham Common Trust, West Berks Council, and the following local businesses and individuals. We are immensely grateful to them all.
ADP Dealer Services Ltd * Kennet Roofing * The GJ Ward Charitable Trust * Marc Allen * Roger King Antiques * Hungerford Vets Ltd * Dickins Hopgood Chidley LLP Solicitors * Fare Wise Travel * Herongate Leisure * Styles Silver * LJ Smith Accountants Ltd * Three Swans Hotel * Peter Stirland Ltd * The Clockmaker * www.britainsfinest.co.uk * Below Stairs * Caroline Lumley Training *Kerridge Insurance * Furr & Company * Casanova * The Gentleman's Shop * MJ Rawlings Ltd * The Plume of Feathers * The Tuttipole * Great Grooms Antiques * Thermatek * Nye & Co * ADW Events * Mrs D Priestley * Mr & Mrs B Gregory * Mr & Mrs J Newton * Mr & Mrs V Long * Mr & Mrs M Hutchings * Mr & Mrs R Gore * Mrs J Smith * Mrs P Pamflett * Mr A Pollitt Mr & Mrs J Martin * Mr M Morgan